The booklets Hiking Trails of Cap Corse are a series of short guides that we have published to let you discover Cap Corse on foot by yourself. They depict in details what you can find along different hiking paths around villages of Cap Corse.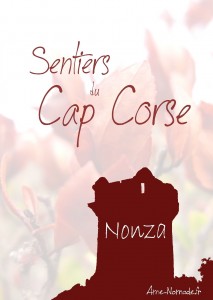 For now, the first and only booklet is about Nonza, the village we live in. We hope to be able to publish many more booklets of the same kind, hopefully one about each of the 18 villages of Cap Corse.
Unfortunately, only the French version is available.
You can find it in several shops in Nonza and Saint Florent or download the pdf or ebook version (french only).
You will find more information on the Nonza Hiking Trails page.